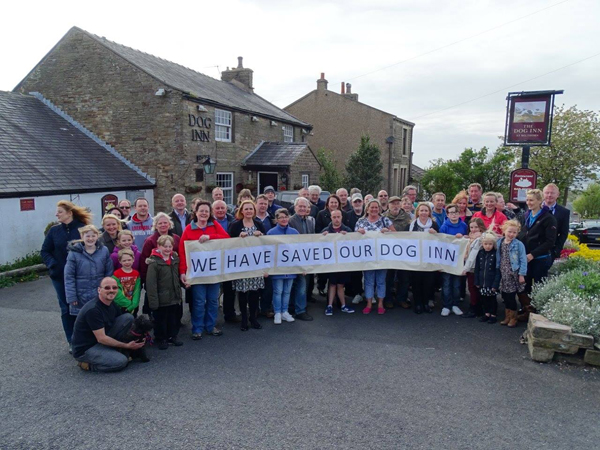 One year after the last pub in the highest village in Lancashire closed it reopened as the first community-owned pub in the county thanks to the efforts of local people and support from the Community Shares Fund.
The Dog Inn in the moorland village of Belthorn near Blackburn shut down in November 2014. It used to be a busy pub but there had been six tenants/managers in the last 10 years and a lack of investment by the company that owned it.
The people of Belthorn and nearby villages quickly set up a community benefit society to acquire the Dog Inn but it had already been bought by a developer. The developer offered to sell it to the community but with a tight deadline.
By lucky chance, the Dog Inn happened to be the local pub of Dave Hollings, a co-operative business adviser who has helped 18 other communities buy their pubs. Dave is also on the board of Co-operative & Community Finance so he knew how the Community Shares Fund could help communities to raise the investment they needed, especially when there is a deadline.
The community share offer was launched on 14 April and by the end of May it had not quite reached its target. It had raised enough money to buy the property but not to complete the refurbishment. But knowing that the Community Shares Fund would invest up to £50,000 if necessary the board of the society decided to go ahead with the purchase.
In the end the target of £180,000 was achieved with 109 members investing in the society. On 2 September 2015 the Dog Inn became the first community-owned pub in Lancashire.
Dave Hollings said: "We think the Dog will succeed under community-ownership because it will be responsive to the needs of local people. Our members will have a direct say in what happens in the pub, the shop, the restaurant and the community garden."
The Dog Inn reopened in November 2015 after some refurbishment. The society employs a manager and part-time bar staff and a wide variety of work is done by volunteers.
---
HOW WE HELPED:
We conducted a due diligence assessment of the proposal.
We committed to invest up to £50,000 if required.
Our commitment gave the society's board the confidence to proceed with the purchase before the investment target had been reached.
---
Ian Rothwell of Co-operative & Community Finance said: "Underwriting by the Community Shares Fund can help a community in two different ways: it improve the chances of a share issue reaching its target, or we can help the venture to proceed if it doesn't. Our backing allowed the purchase to go ahead before the target had been reached. They didn't need us to buy shares in the end which is good because it means the money remains in the fund to help other community share issues."

For more information please visit www.thedoginnatbelthorn.net