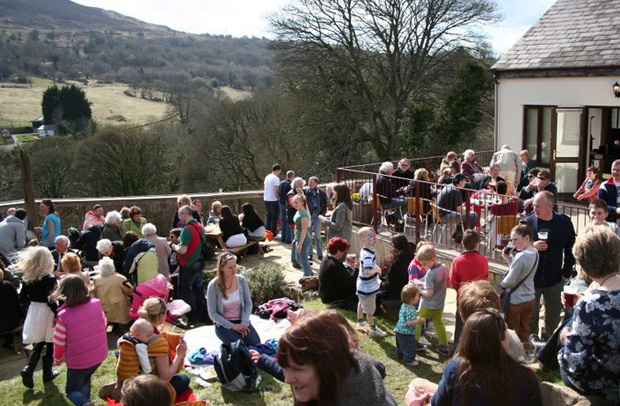 The historic pub Tyn-Y-Capel pub, that dates back to 1250, reopened in 2013 thanks to the efforts of the villagers of Minera in North Wales. Over 100 people bought shares in the venture which was supported by the Community Shares Fund.

The share offer has raised nearly £40,000, and the money is being used to lease the pub from its current owners. Fundraising continues with the aim of eventually purchasing the building.
Tyn-Y-Capel was a monks' retreat in the 13th century, and is well known for its beautiful views of the Clywedog Valley and Minera Mountain. It has traditionally provided locals with a community space to congregate for weddings and christenings, as it is directly opposite the village church. The co-op hopes to develop the space's potential as a function venue.
Eifion Williams, a member of Minera Community Ltd, said: "This initiative set out to do two things. Firstly we wanted to open the pub and we've done that with the help of the Community Shares Fund. Secondly we wanted to reignite community activity and that's exactly what's happened."
Tyn-Y-Capel is in good co-operative company, with community-owned ventures Wrexham Football Club, Saith Seren and The Raven all close by.
The picture shows the opening day in April 2013; which included live music, poetry readings and local real ale. Christine Grant, a member of the co-op, said: "It was a great day with the best weather we've had so far this year – thankfully we had organised the outdoor seating area, because we had nearly 1,000 people turn up and everyone was sitting outside enjoying the sunshine. We had loads of local food and drink, and we sold out of everything. We actually had to pay a visit to The Raven – another community pub in a neighbouring village – to borrow more beer!"
---
HOW WE HELPED:
We assessed the proposal from Minera Community Ltd and concluded
that the pub was a viable and worthwhile investment.
We made an upfront investment of £12,000.
Our early investment gave confidence to other investors.
---
Ian Taylor of Co-operative & Community Finance said: "Tyn-Y-Capel is a beautiful pub which has a great amount of support from the Minera community. The venue will offer a unique and valuable space for them to congregate, as well as becoming a destination pub which will draw visitors from outside of the village."

For more information visit www.tyn-y-capel.com