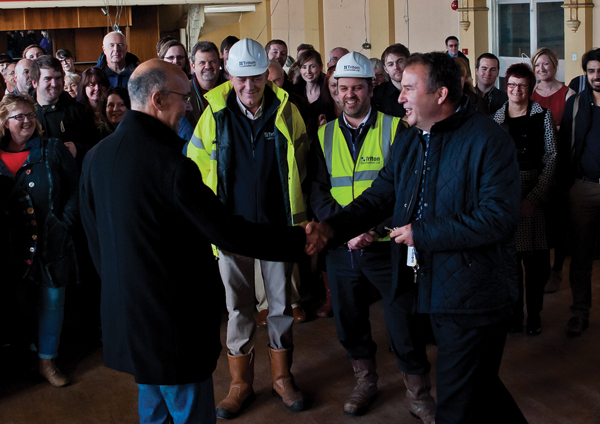 Two specialist co-operative funds worked together to help raise the final pounds needed before work could start on transforming an empty historic building in Wakefield, West Yorkshire, into a community-owned cultural and business asset.
The community co-operative set up to restore and run Unity Hall had already raised nearly £4m, had its plans approved and received all the permissions needed to start work but it needed another £50,000. The co-operative is ran a second share issue and nearly a quarter of the shares were bought by The Co-operative Community Shares Fund. Additional loan finance was provided by The Co-operative Loan Fund. The group also received advice from The Co-operative Enterprise Hub.
The Grade II listed Unity Hall was built in the 1860s for the Wakefield Co-operative Society. It has had many different uses since including as a music hall, cinema and rock venue. It has been empty for 10 years. In 2011 Unity House (Wakefield) Limited was established as a community benefit co-operative with the aim of re-opening the 50,000 sq ft building as a major music venue, conference centre and location for creative businesses.
Major structural refurbishment began in October 2013 and the venue is scheduled to open for business in September 2014.
Chris Hill, one of the founder members, said: "We are grateful to the two co-operative funds for helping with this final push. The investment and loan were very timely. We are close to achieving our financial targets. Nearly £4m has been raised from Wakefield Council, Leeds City Region, Key Fund, the Architectural Heritage Fund, the European Regional Development Fund and of course our shareholders – there are over 200 now."
---
HOW WE HELPED:
We conducted a due diligence assessment of the proposal.
We underwrote 25% of the shares at the start of the community share issue.
Our early investment allowed the refurbishment to proceed.
We arranged additional finance from The Co-operative Loan Fund.
---
Ian Rothwell of The Co-operative & Community Finance said: "This is a huge project and one of the biggest that the Co-operative Loan Fund and the Community Shares Fund have financed. But we are as confident as we can be that it will succeed because it has a lot of public support and has already accessed significant funding from several different sources."

For more information please visit http://www.unityworks.co.uk/